Bid day payments made individually
get to know GreekYearbook bill pay:
Bill Pay lets you order as a group and then pay individually because that just makes sense! It's the simple, convenient, and smart way to order. Check out a few of the awesome benefits of using Bill Pay below.
No more collecting money from members.
Keep track of who has/hasn't paid yet.
Your order will ship once everyone in your chapter has paid!
Did we mention that you don't have to hassle your friends for money anymore?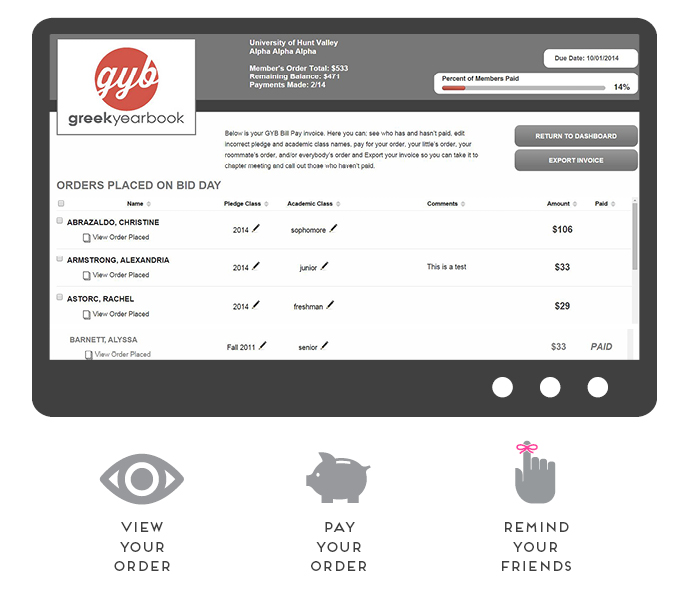 we collect so that you don't have to
how it works:
STEP 1:  GreekYearbook photographs
your chapter's bid day for FREE!
STEP 2:  Members order the photo packages that they want on Bid Day.
STEP 3:  We collect individual payments with Bill Pay so that you don't have to bug your sisters for money!
the perks:
Easy to use!
Members can view their order + pay what they owe.
Get your Bid Day photos faster!
Members can be notified when the order has shipped!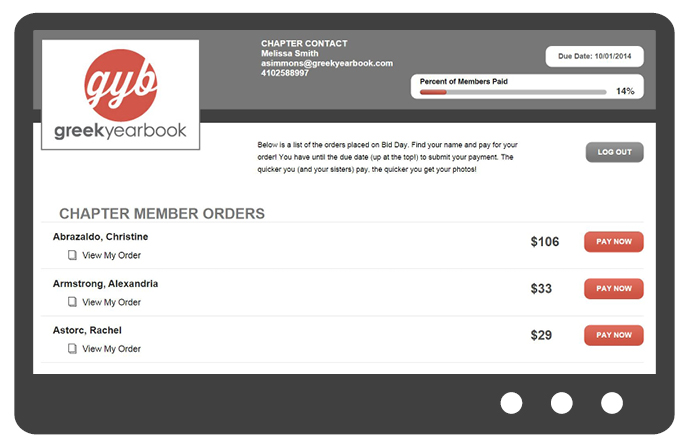 Bill Pay will make your bid day a breeze
bid day with greekyearbook:
There are some major benefits to booking Bid Day with GreekYearbook…
A FREE professional bid day photographer
 We have 200+ professional photograhers nationwide.
$80 in FREE photos added to your order.
FREE crest + lettering placed on each photo.
30% custom Bid Day t-shirt discount from our sister company Greek Streak.
BidGYB – An online account where you can follow your order's status.
Your own professional Scheduling Coordinator.
The fastest turnaround time in the industry.