Do you want more information about the current Status your Composite is in? Or are you curious about the process from start to finish? Guess what! Completing Steps 1-3 prior to your shoot will only help you get your composite faster.
Step 1: Account Information
This is where you confirm your information, let us know who else can help us, and tell us where to ship your composite. This section also reflects your photo shoot information, just in case your scheduling email gets lost in cyberspace. Keep in mind that all myGYB notifications only go to the Immediate Contact's email, so make sure it's accurate! That means if you change positions, make sure the new Composite Chair logs in and updates the info in Step 1 ASAP!
Step 2: Waiting on Ordered List
Your Ordered List tells us everyone who will be listed on your composite, where their photo will appear, any title they may have and the correct spelling of their name. The list is formatted vertically and will run from left to right. This means that the first person on the list will appear in the top left-hand corner and the last person will be bottom right-hand corner.
Your Ordered List is NOT set in stone. Don't be afraid to submit it prior to your shoot! Submitting your Ordered List (and composite options) prior to your photo shoot will actually get you your first proof faster and we can always make changes later! We highly recommend using your chapter's roster when completing your Ordered List to avoid misspellings or accidentally omitting anyone (it's happened – whoops!)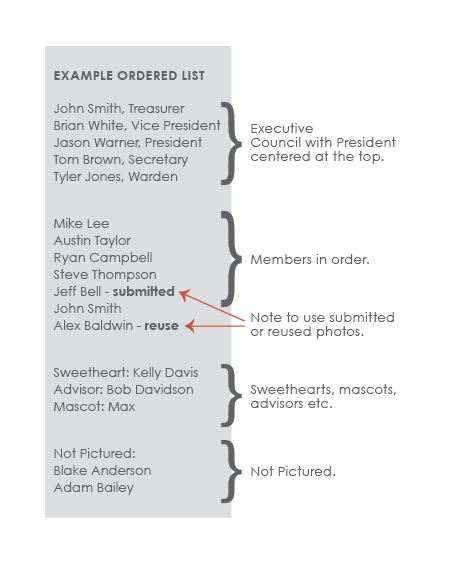 Step 3: Waiting on Composite Options
This is the fun part! Tell us what you want your composite to look like!
Stay Consistent:

You can choose to reuse the same design options as last year so your composites look similar year after year. #Traditional

Try Something New/Customize Your Composite:

You pick the background color, the fonts used, the frame and more. Go crazy! (but not too crazy; your chapter may not appreciate a lime green background).
This is also where you can choose from a variety of GYB exclusive upgrades. Want your portraits for LinkedIn? Get that Digital Download. Want your composite faster? Pick Priority Printing!
Your Composite Options are NOT set in stone. Submitting your Composite Options (and Ordered List) prior to the shoot will actually get you your first proof faster. We will make as many design changes as you like once you see your first proof.
Step 4: Proof in Production/Waiting on Additional Information
Proof in Production:
Once you submit your Ordered List and Composite Options, we will begin working on your first proof! The first proof will take approximately 2-3 weeks to create. Remember those forms you filled out at the shoot? At this time we compare your Ordered List with our own list of everyone who was photographed at your shoot. We'll let you know if you listed any members that didn't get photographed at the shoot.
Waiting on Additional Information: You will be moved into this status if members on your ordered list were not photographed. At that point we'll ask if you would like to reuse their photo from a previous year, submit your own photo of them, or list them as Not Pictured. You will also go into this status if you choose to schedule a makeup shoot for missing members, or if your Composite Designer has any questions for you about your design.
Step 5: Waiting on Proof Approval
Congratulations! It's a Composite! You will want to carefully review your proof to catch any spelling errors in names/titles/years/etc. Do a few members need to be switched around? We can fix that. Or maybe you don't like that lime green background as much as you thought… No worries! REJECT your proof and let us know what needs to be changed by posting on the myGYB message board. We'll create as many proofs as it takes for you to be 100% satisfied with your composite and APPROVE it.
Step 6: Proof in Production/Waiting on Proof Revisions
It is possible to skip this step. This step only applies to you if you REJECT your proof.
Proof in Production: We'll make any design changes you've requested within 2-3 business days and post a new proof!
Waiting on Proof Revisions: You'll be moved into this status if you REJECT a proof and don't post any changes on your message board. Don't leave us hanging!
Step 7: Client Waiting to Be Invoiced
Once you approve your final proof, our accounting department will assess the final cost of your composite. Now it's time for us to do some math! Remember that number we gave you in the beginning? That was your Estimated Total. Which means it was just an estimate based off how many members you expected. We'll tally up how many members you had listed on your final composite, account for any reused/submitted photos, and add on any upgrades you chose in Step 3. If the deposit you gave us does not cover the final cost of your composite, we'll post an invoice.
Step 8: Waiting on Payment
Your chapter will remain in this status until you submit payment for the final balance. You can find your Invoice in the Invoices & Files section of your myGYB account. Your invoice due date will be 2 weeks from the date it was posted. If you think you need more time, just let us know! We're happy to give out extensions for those that ask, just don't ghost us!
TO MAKE A COMPOSITE PAYMENT:
We can accept credit card payment over the phone or online.
Or you can mail a check to:
GreekYearbook
11103 Pepper Road
Hunt Valley, MD 21031
* If you are sending a check, make sure to write your school and organization name on the check.
Step 9: Printing/Priority Printing
Yay! Your composite is printing!
Printing: The standard turnaround time in print is 4-6 weeks.
Priority Composite Printing: If you chose Priority Printing in STEP 3, your composite will print and ship within 10 business days! That's nearly a month sooner than standard print.
Your composite will ship to the address you listed in STEP 1 of myGYB – so if you think you won't be there, contact us ASAP.
Step 10: Shipped
Your composite has left the building, I repeat, your composite has left the building. You will receive a tracking number via myGYB once it ships. Please use this tracking number to track your composite and the expected arrival date. We don't require a signature, however, it's up to FedEx's discretion whether they leave it at your front door, with a leasing office, or ship it back to us. If a composite is shipped back to us, for any reason, a reprint fee of up to $500 may apply.  
Attendance and Status FAQs
How do I make a Composite payment?
TO MAKE A COMPOSITE PAYMENT: We can accept credit card payments online. Or you can mail a check to:
GreekYearbook
11103 Pepper Road
Hunt Valley, MD 21031
What is the status: Board On Hold - No Deposit Given?
So here's the thing. We REALLY want to work on your Composite but we've been burned before. We can't begin any design work without receiving at least half of your Estimated Total. Not sure what that amount is? You can find your Estimated Total in STEP 1 – Account Information. If you need some time to submit that payment, or don't have the funds – let us know! We will work with your chapter to figure it out.
What is the status: Account Frozen?
Is it cold in here, or is it just me?  Your account has been frozen because you still have an incomplete composite with GreekYearbook that you need to finish. We require that all past composites are completed and paid for before we can work on your most recent one. If you're unsure about what to do next, let us know! We'd be happy to help you out.
How do I know who attended the shoot?
Remember those forms you filled out at the shoot? We'll post a list of all photographed members on your myGYB message board.
Some of my members missed the shoot, now what?
Your options for any members that were not photographed are:
Be listed as Not Pictured:

They can be listed as not pictured for the per member price.

Reuse a photo:

Any of your members who had their photo taken with GYB in the past can reuse their photo. Let your designer know who wants to reuse a photo by posting on your message board.

There is an additional $20 fee per person to reuse a photo.

Submit a Photo:

If any of your members were not photographed by us in the past, they can submit a digital photo of themselves. You can find the submitted photo guide in your myGYB Files section.  If they want to use a professional photo taken by another company, we will need to receive a release form.

There is an additional $25 fee per person to submit a photo.
Schedule a makeup shoot: We recommend a makeup shoot if more than 15 members miss the original shoot. Makeup shoots begin at $350 for the first hour, and $50 for each additional hour. Contact your original scheduling coordinator to schedule a makeup shoot! The time scheduled will depend upon how many people need to be photographed.
How do I view/purchase my individual portrait photo?
You will be notified via email when your online gallery is available. Didn't receive any email? Have you checked your junk folder? Sometimes our emails get flagged as spam, or it's possible that there was a typo in your email address. If you don't see the email, you can use our website to find your portrait photo:
https://www.greekyearbook.com/purchase-composite-portraits
If you are unable to find it using the search engine, please contact portraits@greekyearbook.com with the following information:
Student's Full Name

Student's University

Student's Organization