At GreekYearbook, we use an online account management system called myGYB, which allows you to conveniently manage and design your composite from start to finish. In this post, we will discuss helpful features of myGYB, as well as design tips to help you create the perfect
sorority composite
or
fraternity composite
!
Why is myGYB so great?
1. Easy Communication
You can easily enter your Ordered List of how you want members to appear on your sorority composite or fraternity composite. If you want to make changes to your Ordered List after you've submitted it, all you have to do is post on the myGYB Message Board to talk with your designer and make edits.
2. Composite Design
You have complete control over the design and can choose colors, borders, fonts, frames, and more all within your myGYB account.
3. Online Proofing
After you submit your design options, you will receive your first online proof. From there you can make design edits and view as many proofs as you need. We provide free unlimited design changes and proofs for your review.
4. Online payment
You can view your invoice and balance within your myGYB account and then conveniently make payments online!
MyGYB provides all of the Composite Design Options needed to create a gorgeous custom sorority or fraternity composite. Below are some tips about key components that make up every composite. We hope that these tips will help you make decisions when designing your next composite.
Composite Design Tips
1. Composite Background and Borders
Choosing colors can be tricky without any guidelines or tips. We recommend that you reference previous composites or use your organization's branding colors. Get hex color codes for your background and border colors. Enter the hex colors into myGYB to ensure the perfect color match for your sorority or fraternity composite. Also, make sure you choose contrasting colors for your background color and border color so the border stands out as a nice enhancing detail.

2. Photo Shapes, Border Options, and Drop Shadows
We offer four different photo shapes for your composite: rectangle, rounded rectangle, oval, or octagon. Most sororities choose an oval shape for their composite and fraternities often choose to use a rectangle or octagon. Photo borders are nice options to contour each photo, or you can go without a border for a modern clean look. Drop Shadows are also a nice option that can add some dimension to your composite.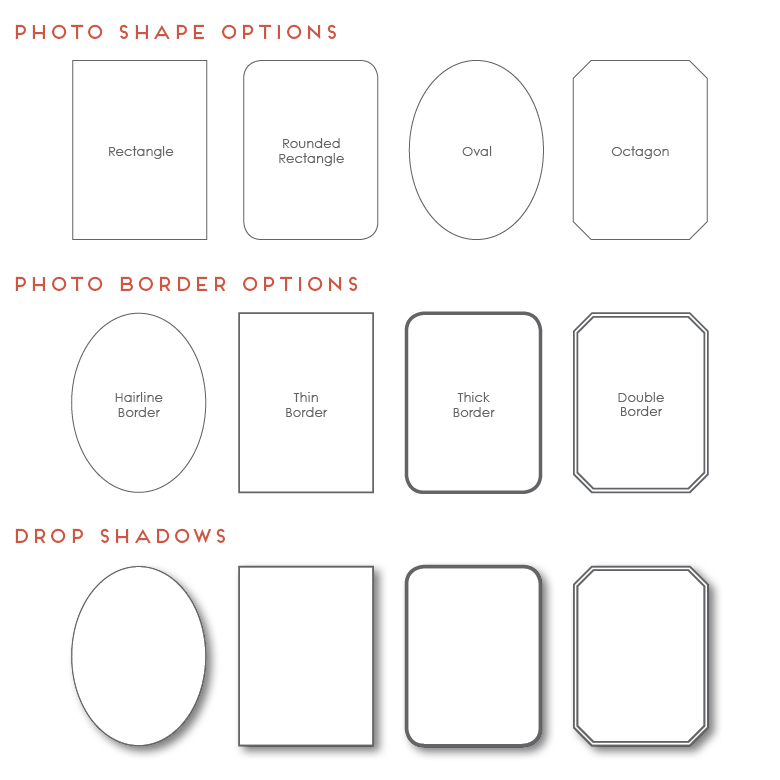 3. Fonts
The fonts you choose for your sorority composite or fraternity composite will affect the look, feel, and readability. We recommend that you choose a more detailed and intricate font for large focal points, like your Organization Name, University, and Year. Then you can choose clean simple fonts for your chapter name, founded date, member names, and titles.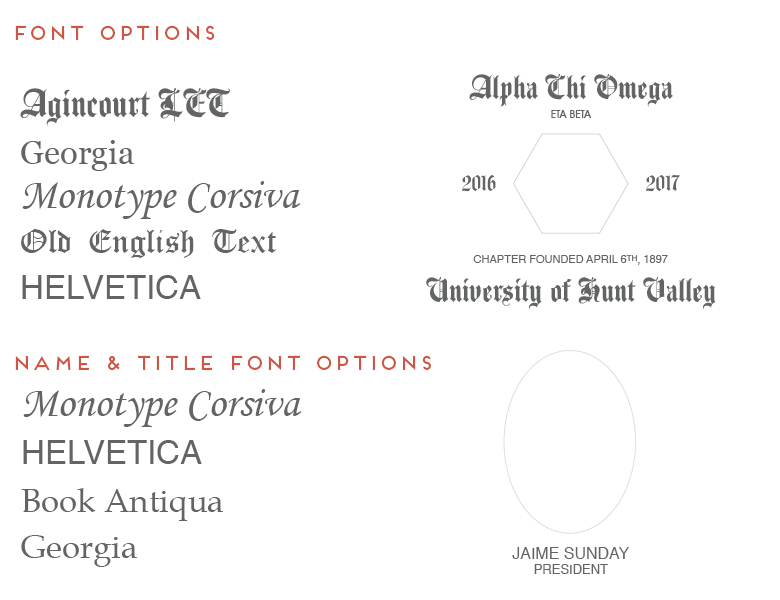 4. Matting and Framing
It is always good to plan where your new composite will be hung and choose matting and framing accordingly. If your new composite is going to be hung next to other composites in your sorority house or fraternity house, then choose a frame to match. Also, consider the decor and style of the room where your new composite will be hung! Custom composite matting is a recommended upgrade that adds a touch of class to your composite. And we offer a wide variety of frames, from classic to contemporary, to fit the look you're going for.



With all of the design options available to you, we want you to feel confident and in control when creating your composite. And with myGYB, you can be in touch with your designer directly and get any questions answered. We are always committed to helping our customers receive gorgeous composites that represent their sorority and fraternity traditions.