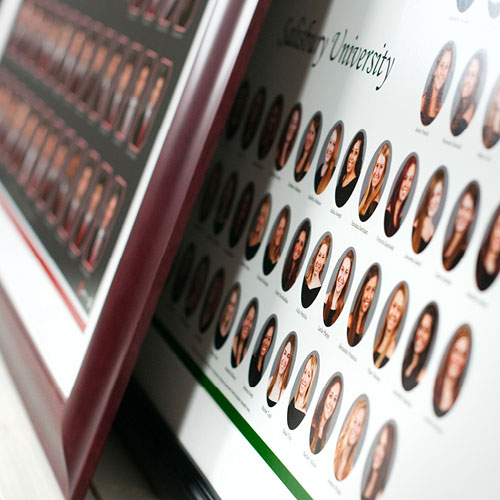 Your Composite price always Includes:
The Composite
A large framed Composite for your chapter as well as one individual 11 x 14″ Composite print for every member's name listed on your Composite.
Design
Unlimited design options, free in any quantity or combination. As well as custom member placement- by class, in alpha-order, whatever you would like at no cost to you.
Revisions
Make unlimited design revisions, absolutely free. Whether one proof or ten, make your Sorority Composite or Fraternity Composite perfect.
Framing
Your choice of any of our standard wood frames, complete with shatterproof acrylic glass.
Shipping
Shipping, handling, and taxes. No hidden charges here!
Portraits
An opportunity to order individual portraits sent to each member as well as parents. A great gift for Mom and Dad!
The Benefits of Composites with gyb:

All-inclusive Pricing
No worry involved, no surprises.
All-inclusive pricing with no hidden extras!

top-quality materials
Premium materials coupled with handmade quality. You won't be disappointed when yours arrives, it'll be wall-worthy right away.

[free] design options
Choose your perfect combination of colors, frames & so much more. Show your groups style, for no additional charge.

top quality customer service
Your major purchase is OUR major project. Our customer service team is here to ensure that you are 100% happy!
Quick facts on composite photography
The Shoot: We will schedule a few hours for your Nursing, Law, Pharmaceutical or Dental class to have their Composite shoot. When our Photographer arrives he/she will take 4-5 poses of each person in your group. Each Nursing, Law, Pharmaceutical or Dental class member will be able to view his/her portraits on a screen and approve it at the shoot. If a group member is ever unhappy with his/her photo, we will continue until it is absolutely perfect. Our GreekYearbook photographers are professional, courteous, and extremely efficient at getting your Nursing, Law, Pharmaceutical or Dental Composite photos done in a speedy manner. On average, our Photographers can photograph up to 35 members per hour.
Turnaround: With our online design tool, myGYB, the turnaround time for a Composite is determined by the client. Depending on your specific needs, and if there are any changes, is what determines the length of your turnaround time. On average our clients receive their Composite within 30 business days after their shoot however, we guarantee it within 60 days from receiving all design information needed.
Online Proofing System: GreekYearbook is proud to be the only Composite company in the country that offers myGYB, an online account management system for your Nursing, Law, Pharmaceutical or Dental Composite. You will be able to login to your groups account to:
-Manage and choose your design online using myGYB- Keep GreekYearbook up to date on all your contact information including current shipping address, email and phone number.
-No need to call or email us! Just check your message board to get updates about your chapter's Composite!
-Keep track of all conversations with GreekYearbook to monitor changes and expected time of delivery.
-Get real-time shipping and tracking information for your Nursing, Law, Pharmaceutical or Dental Composite.
-View and request changes to your proof directly online for your Composite.