With stories of hazing, excessive drinking, and partying regularly in the news, combined with movies like Animal House and American Pie, it's unsurprising that some people have a negative perception of Greek life. However, Greek organizations around the country are doing great things for their members and their communities every day, which sometimes gets overlooked by the media.
The Phi Kappa Theta chapter at MIT was having a cookout when they heard the loud explosions that turned out to be the Boston Bombing. Naturally, they rushed back inside, turned on the television, and watched reporters describe the tragedy that was occurring nearby. As people fleeing the marathon site began to show up near the Fraternity house the brothers opened their doors. They offered water and granola bars to everyone who walked by and let people use their phone chargers so they could get in contact with loved ones. They even set up video games for children to play downstairs, which helped them escape the frightening news reports that the adults were watching. When asked about their acts of kindness the brothers referenced their fraternity motto: "Give, expecting nothing thereof."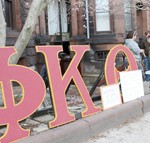 This past September, University of Alabama's Greek system began to attract negative press coverage after the school's newspaper posted an article that exposed systematic discrimination within Greek organizations. The article included accounts that Alpha Gamma Delta alumnae prohibited current members from offering bids to two black women. After this horrible report Alabama students took action. Hundreds of students and faculty marched to the Rose Administration Building, referencing the actions of former Governor George Wallace who tried to prevent African-American students from being admitted to the University 50 years ago. Following this student-led protest Dr. Bonner, the university president, changed a longstanding rule at the University Alabama, which allowed Greek organizations to enforce their own membership standards, and made recruitment open to everyone. Since this rule change traditionally-white Sororities at the University have welcomed eleven black women with open arms.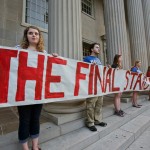 As in any group of people, some members of Greek life may participate in questionable activities. However, these organizations also have great potential to positively impact their schools, their cities, and the world.
Allie Smith, Scheduling Intern