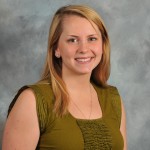 When you walk on the horseshoe, you smell the fresh cut grass and anticipation. The brick walk ways are filled with fraternity boys, their new puppies, families, and friends, all waiting for the same moment. There are thousands of sorority girls, shouting rehearsed chants and songs. They are equipped with noise makers and crazy matching outfits. Balloon arches and bright colors fill the lawn. Eager potential new members slowly enter on the brick paths in front of the visitor's center. This is the moment they have been waiting weeks, months, even years for.
The girls circle around their rush leader and anxiously wait to receive their bids. After they have been given their sorority shirts and bid cards, they quickly unroll them and sprint down the lawn to meet their new sisters.  You will see tears of joy, squeals of excitement and sadly some disappointment as the girls enter their new families.
The run down the lawn is filled with lots of excitement and confusion. Girls quickly try to find where they belong and who they are supposed to meet up with. Fraternity boys try to find the best view of the new girls running, wanting to catch a glimpse at anyone who falls. And sorority sisters try to shout the loudest, to make sure everyone knows how proud of their new girls they are.
Bid Day evokes feelings that compare to no other. When applying for a job, I never thought I would be lucky enough to get to experience Bid Day all over again. Over the past three months, I have been able to relive the feelings, the experiences and excitement I had on my Bid Day. Although it's a little different viewing things through the lens of a camera, I am so happy my career helps to capture such special memories and moments.
– Margaret Allshouse, Marketing Associate