With Summer coming to an end, sorority recruitment is in full swing! If you are thinking about going through recruitment, the entire process can seem overwhelming. Below are a few helpful tips to keep in mind while going through recruitment from the Greeks at GreekYearbook:
Wear a memorable piece of jewelry! Wear that same piece

every, single day of recruitment!

The sororities are meeting a lot of girls so if you have a small necklace or ring that has story tied to it, it will help them remember you!
If you are standing for a long period of time, DO NOT LOCK BOTH OF YOUR KNEES! It will cut off blood circulation and may cause you to pass out – no one wants to be that girl.
Don't go into recruitment with the mindset that you have to join the same sorority all of your friends want. Not everyone will get a bid from the same one but stick with what you most enjoy.
Recruitment will feel like speed dating for girls – it essentially is. "What's your major?" "Where are you from?" "What did you do this summer?" – all of these questions will be asked at every, single party so get used to repeating yourself.
Do not believe the rumors. You will hear countless rumors about all the sororities during recruitment but try not to let them impact your decision – it is YOUR decision.
Don't just join for the t-shirts – every sorority has t-shirts. Look at the different personalities of all the girls you meet and their philanthropic missions.
I have a full-time job after college because of my sorority – seriously. So it's not just about the socials and shirts – but hey, they don't hurt!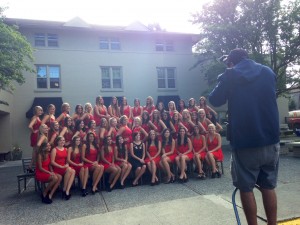 (Alpha Gamma Delta, Washington State University Preference Day)
-Megan Hancheruk (Scheduling Coordinator)