Sorority and Fraternity members schedule their appointment times, show up to their shoot looking their best, strike a few poses, and pick their favorites. Soon after they see their photos displayed online and on their proof cards, allowing them and their parents to choose which they'll hang on the family room wall to commemorate their college achievements. It's just that easy for the students.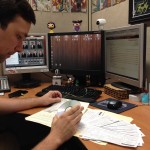 But between the time when the shutter clicks and when the image prints is when a lot of magic happens, and I'm the magician that pulls out a lot of tricks here at GreekYearbook. Photos arrive to my desk  simply as files of hundreds of sorority members' photos on a disc. I use the order forms filled out at the shoot to match up Jamie's photos to her information, which I'll use to let her know how to view her photos online and figure out where to send her proof card a little further down the road. I take all of the images, which at this point have not been cropped, color corrected or formatted for print, and I'll make sure that everyone is where they should be in the frame, I'll get rid of any blinks (we all know we hate when that happens!), and I'll make sure that all the tones and colors are perfect.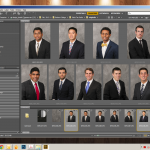 Once the images are looking pretty I'll create an online gallery, which allows Fraternity members to check out their photos, and see their brothers faces as well if they choose, as well as share their photo session with mom and dad. From this gallery members of the Greek community can purchase their photos as well and, in just a short time, printed photos will arrive on their doorstep.  We know that some people prefer not to order online, so I also create individual printed proofs for each student, which include the best photos from their session on a professionally printed card adorned with their Organization, Crest, School and their address for the postmaster to direct it safely to their home. Mom and Dad can then call me directly, as I am the voice of GreekYearbook's customer service department, and I will guide them to find the best packages and prints so that they have enough to share their child's Greek accomplishments with family and friends.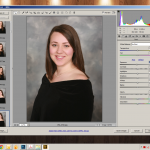 I use nearly ten different programs while working on Fraternity and Sorority photoshoots as I bring them to life and make them ready for purchase. My desktop has three monitors keeping track of each Greek Chapter's progress, making adjustments to their photos, organizing their files, and creating the emails to notify them when their photos are online. It's a job where I have to wear many hats, but the juggle of many tasks is very rewarding as it gives me great pride to create lasting memories for members of the Greek Community as well as the parents of Fraternity and Sorority Members worldwide.
Dylan Kates, Portrait Sales Associate