Members of Sororities and Fraternities often say that the only way someone can understand Greek Life's impact is to experience it for oneself. While I do find this to be somewhat true, I will do my best to convey what it means to me to be a part of my sorority, Delta Delta Delta.
I didn't join my Sorority right when I got to college. In fact, I didn't join my Sorority in my whole first or second year in college. I didn't even join a Sorority at the first college I went to out of high school. It took me until spring semester of junior year to go through recruitment at the school that I transferred to, Towson University. I didn't wait to join because I wasn't interested in Greek Life. I was fascinated by the idea of being in a Sorority since freshman year; it looked like so much fun! Seeing girls on campus wearing their letters and participating in all kinds of events looked like something that I wanted to be a part of. But I didn't seem to think that I would fit in any of the chapters at my old school, so I never went through recruitment. When I got to Towson it was my chance to start over.
Bid day was such an exciting experience for me, as it is for most women joining Sororities. I couldn't wait to meet everyone and begin my journey through membership. GreekYearbook came out to take our bid day pictures, little did I know that I would be interning with the company just a few months later. It's an opportunity that I would have completely overlooked if I never joined a Sorority. Going Greek opens up so many doors for its members to move forward personally and professionally, which is one of the reasons it is so important to me.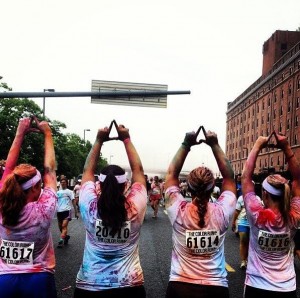 As the semester continued Tri Delta gave me so much more than I could have asked from it before joining. I didn't just have people to hang out with, I had sisters that I would do anything for and who would do anything for me. We have a philanthropy that each one of us holds close to our hearts and we are proud to be a part of the Greek community on Towson's campus. Anyone affiliation with a Greek organization places the utmost pride in their letters.
Each person's experience with Greek Life is different. My experience isn't the same as anyone else's in my chapter. This is another thing that is important to me in my membership. A Sorority woman can have struggles and successes throughout her time in a Sorority that are different from anyone else's, but her sisters are the constant. Your Sorority sisters may not all be your very best friends but they are all there to make you a better person. They are there to guide you, to celebrate with you in times of triumph, and to help you up when you fall.
Being in a Sorority goes so much deeper than having people to hang out with and being able to say you are in a certain chapter. It is about putting into your membership what you want to get out of it. It is having a support system that you can call your second family. It is about taking pride in your letters, your sisters, and yourself.
-Tracy Steele, Marketing Intern