This interview is part of a series of interviews hosted by GreekYearbook and Greek Streak's CEO, Harvis Kramer.   Harvis reached out to several sorority clients & leaders in the Greek community.  He wanted to hear what they felt it meant to be a "leader" & other hot topics happening today in the Greek community.  Harvis was President of his fraternity at the University of Maryland which lead to him becoming CEO of GreeKYearbook and later on starting Greek Streak.
To read the first article, please click here.
Sorority Panhellenic President & council interviews Episode II.
Spotlight #1 of 2:  Texas A & M University.
# of sororities: 12 NPC chapters, 1 local organization.  3,000 women.
Panhellenic President:  Maddison Malone
Sororities:  ALPHA CHI OMEGA,  ALPHA DELTA PI,  CHI OMEGA, DELTA DELTA DELTA, DELTA GAMMA, DELTA ZETA, GAMMA PHI BETA,  KAPPA ALPHA THETA,  KAPPA DELTA, KAPPA KAPPA GAMMA,  PI BETA PHI, and ZETA TAU ALPHA.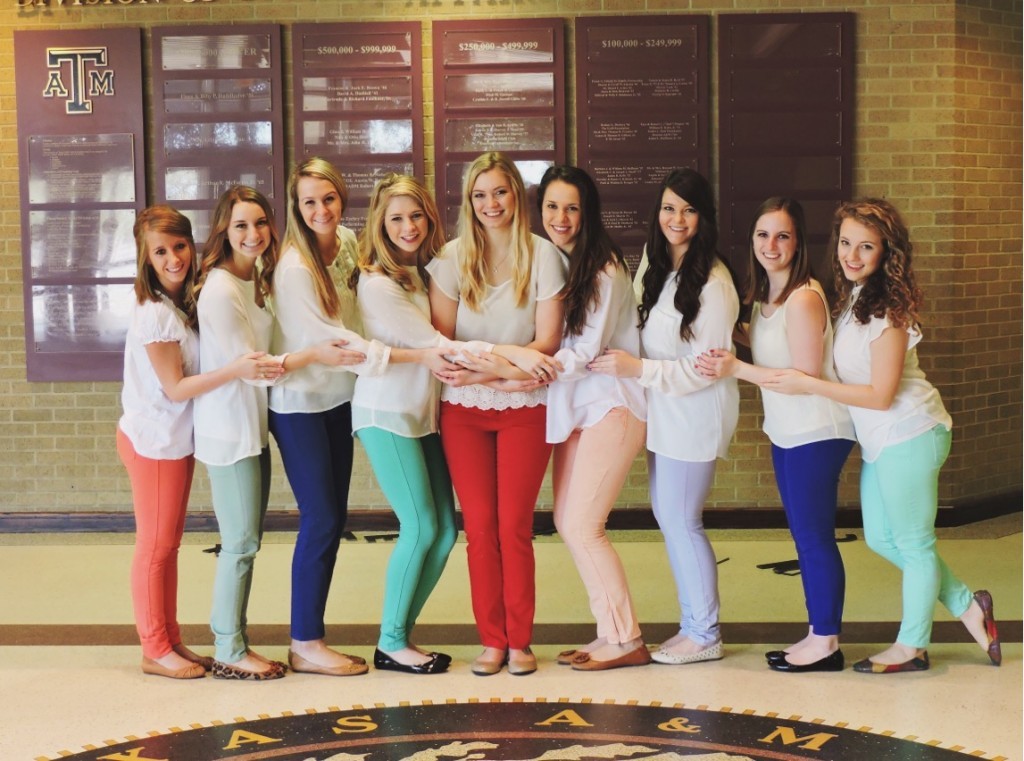 (Texas A & M Panhellenic Executive Council pictured above)
Harvis:  What does it mean to be a Panhellenic President, what would be your job description if you had one?
Maddison:  Being Panhellenic President means being an advocate and a liaison for Panhellenic women. It is my job to work to ensure that the women on our campus are utilizing their resources and maximizing the impact they can have on their futures and their peers. I also work to bridge the gap between the University and the community in order to help the Panhellenic community achieve our goals.  
Harvis:  What do you think you have learned (or will learn) as a leader of the Panhellenic council that will help you in your future career?
Maddison:  In my time as Panhellenic President I have already learned so many things that will help in my future. I have learned how to work in a team, how to be an effective leader, self-discipline, and valuable management skills.
Harvis:  If you could change one thing about the perception of Greek life (by non-Greek members) what would it be?
Maddison:  Someday I hope that the Greek community is understood as the exceptional organization that it is. I hope that non-Greek individuals recognize the overwhelming impact that fraternity and sorority members have on their surrounding communities, philanthropically, academically, and professionally. I hope the Greek community is some day understood to be an organization that builds strong, intelligent, and well-rounded individuals who are among the highest achieving and most phenomenal in the world.
Harvis:  What are some of your favorite fundraising ideas you have seen chapters do?
Maddison:  Our chapters have raised hundreds of thousands of dollars for their philanthropies in a number of enjoyable and creative ways. Some of our chapters' philanthropy events range from all you can eat dinners to clay shoots, color runs and 5ks, dodge ball and even paintball tournaments.
Harvis:  If we had an unlimited budget we would….
Maddison:  If our council was given an unlimited budget, we would work tirelessly to maximize the impact that we have on our community, our campus, and for our philanthropies. If given the opportunity, our council would sponsor leadership and professional learning activities to every one of our members. We would work to bring the most influential speakers and authorities to our campus not only for our benefit but for the benefit of our peers. We would also offer scholarships to our most deserving members.
Harvis:  What makes your PHC different than other PHC's?
Maddison:  The Panhellenic community at Texas A&M University is unique because of our exceptional ability to support one another and our campus. With over 50,000 students at Texas A&M, the Panhellenic community serves as a home and smaller family within the Aggie family for our women. Aggie Panhellenic women are involved in almost all of the over 1,000 student organizations at Texas A&M and among the most impactful students on campus.
Spotlight #2 of 2:  Murray State University.
# of sororities: 6 sorority chapters.  900 women.
Panhellenic President:  Caitlin Dunaway.
Sororities: Alpha Delta Pi, Alpha Gamma Delta, Alpha Omicron Pi, Alpha Sigma Alpha, Kappa Delta, and Sigma Sigma Sigma.
(Murray State Panhellenic Executive council pictured above)
Harvis: Why did you become a leader of the Panhellenic council?  Did you also hold a position in your sorority (if so what was it)?
Caitlin:  At first being apart of the Panhellenic Council didn't cross my mind, until my sisters encouraged me to run for the President position. I have loved every day of it and I am so glad that I get the opportunity to help grow our Greek community and impact it. I want to help our Greek community come closer together and ultimately fight the negative viewpoints Greek life has. I have held the offices of Public Relations chair and Non-Voting Panhellenic Delegate for my chapter of Alpha Delta Pi which have helped me grow as a person and a leader.
Harvis:    What does it mean to be a Panhellenic President, what would be your job description if you had one?
Caitlin:  To be Panhellenic President means having a strong voice and leadership skills. It also means that you hold Greek unity very close to your heart because that's ultimately one of your biggest jobs. Panhellenic President is a person who represents the entire Greek community well, and can also be someone that steps up to make sure that the chapters are abiding by the NPC rules, even if the chapter not abiding by them is her own. To be Panhellenic President, you have to have good ethics and morals.
Harvis:  What do you think you have learned (or will learn) as a leader of the Panhellenic council that will help you in your future career?
Caitlin:  The amount of things that I have learned and will learn that will help me in the future are endless. Being President has helped me grow as a leader and having great leadership skills is something that a lot of company's will look for. I'm a Marketing major and dealing with people and communicating with them is a big part of any career I get, and having good public relations skills is great too. Being President has given me just those skills and more.
Harvis:  Do you communicate with other PHC Presidents from other schools?  If so, how do you help one another?
Caitlin: I have a GroupMe chat with a few other PHC Presidents that I met at AFLV, and I'm so grateful to have them to ask questions and to see what they do in their councils. I have gotten information on how they run their council meetings and about extra events they do. I have also talked to them about how they do recruitment at their University and what requirements and regulations they have for Gamma Chis, or recruitment counselors.
Harvis: What is your greatest accomplishment thus far as a Panhellenic Council?
Caitlin:  Our greatest accomplishment thus far as a council is mostly the goals and ideas that we already have planned for the year. We have changed the process for Gamma Chi's to learn about what their duties are and how to be a great leader for the girls going through formal recruitment. We have also planned out a philanthropy event and other great things for Circle of Sisterhood to not only help girls all over the world to have the education they deserve, but to also help our Panhellenic community work together for such a wonderful cause. We have so many great ideas for the year and we can't wait to see how it all plays out.
Harvis:  What goals do you have that have not been completed yet?
Caitlin:  Goals that we haven't accomplished yet is throwing a successful philanthropy event for Circle of Sisterhood. Our event is scheduled for the end of April and we are hard at work to plan for a great turn out. We hope to get as many people involved as possible and for everyone to look forward to it every year. At my University no one has held a dance-a-thon philanthropy event, so we decided that would be a great way to bring something new to campus that everyone will love. 
A special thank you to Maddison & Caitlin for doing this interview.  If your sorority or Panhellenic council would like to be featured in a future article, please email us greekstreak@greekstreak.com.  We are giving away various prizes including a free Spirit Football Jersey, sorority group order apparel items, free composite services, free bid day photography, and more!